Wagyu nduja
R&D
Nduja is a Calabrian sausage made from pork trimmings, roasted peppers, and a mixture of spices.
It derives its name from the French andouille, a similar smoked pork sausage which was developed when the French were defending their land against the invading Spanish in the early 19th century.
A central ingredient to nduja is the red pepper, a 15th century import from the Americas. Diego Álvarez Chanca, a physician on Columbus' second voyage to the West Indies in 1493, brought the first chili peppers to Spain and wrote about their medicinal effects in 1494.
The spread of chili peppers to Asia was a consequence of its introduction to Portuguese traders, who promoted its commerce in the Asian spice trade routes. Portuguese travel logs from the early 16th century note that chili peppers were welcomed by Indian cooks because its similarity to the pungent black pepper and biting ginger. By the end of the century, peppers became an integral part of Indian and Southeast Asian cuisines.
We see the use of peppers in a similar form to the nduja in Korean yukhoe, Levantine kibbeh nayeh, Ottoman cig kofte, Syrian muhammara, and Hungarian ajvar. The category of Peranakan dishes called tempra— which employ caramelized onions, red chilies and meat, fish or chicken marinated in lime juice— originated with the Malacca Portuguese. Japanese pickles known as nanban-zuke, made with chilies and vinegar, emerged during the Portuguese sojourn in Nagasaki in the late 16th century. Fermented pepper pastes with similar flavour profiles range from the North African harissa, Thai sriracha, Indonesian sambal, and Korean gochujang.
Our wagyu nduja is a combination of ground wagyu beef, gochujang, chili powder of the Baniwa pepper, and bulgur, sandwiched between lavosh crackers and served with an emulsion inspired by romesco and muhammara.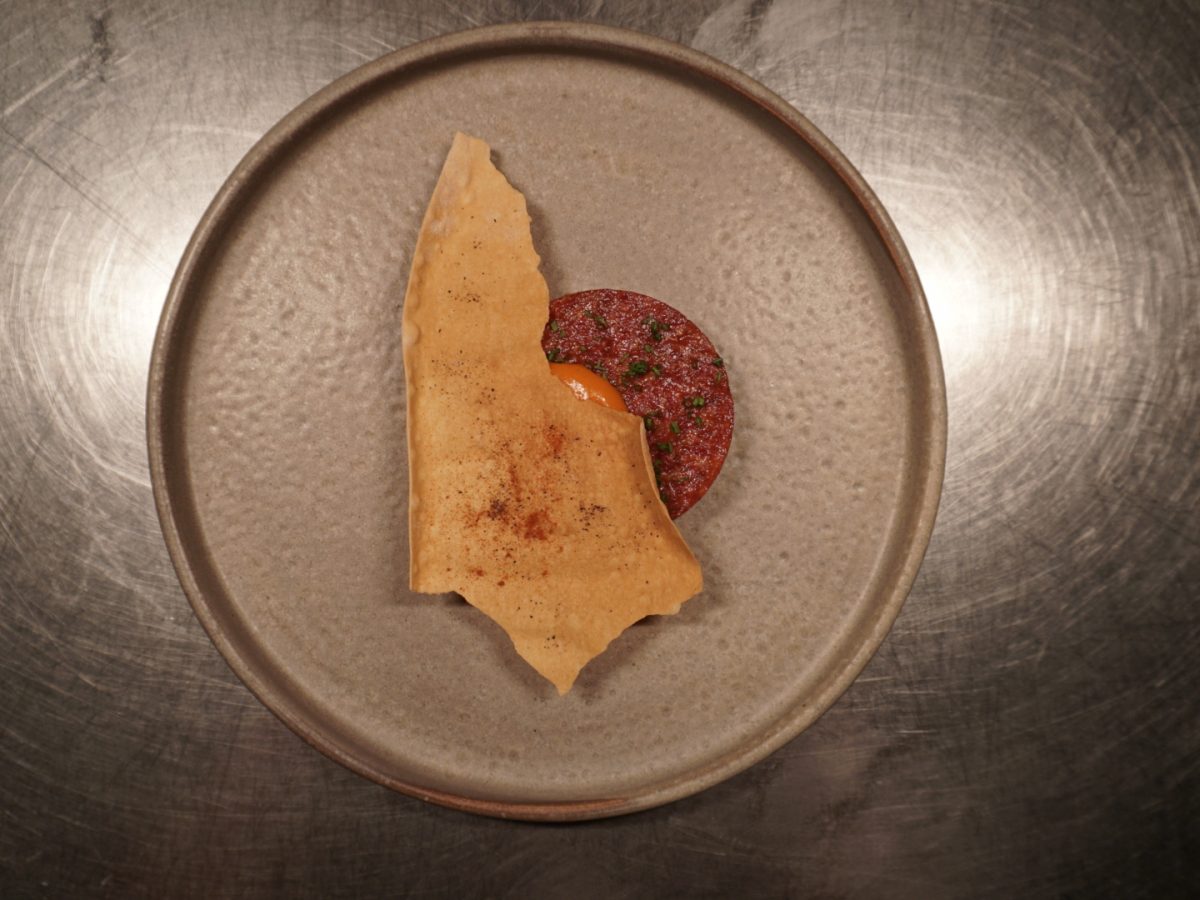 Tags
Locations
Categories